Caledonia

Add Caledonia as a friend

Caledonia will be notified and will have to accept this friendship request, to view updates from Caledonia and their ratings you must follow them.

Remove Caledonia as a friend



About me
Caledonia hails from Scotland and spends way too much time on the internet. She has seven domains which take up quite a lot of her time but she wouldn't do it unless she loved it.
Occupation: Civil Servant
Lists
Recent reviews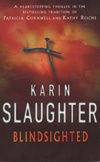 Posted : 12 years, 6 months ago on 7 June 2006 05:11 (A review of
Blindsighted (Grant County Series)
)
This is one of those books you really want to read in one sitting and I don't have too many books that fall into that category anymore. The storyline is gripping, the characters are likeable and the plot has a few stunning twists and revelations along the way. I can't go into details because it would totally spoil it for anyone who wishes to read it themselves, suffice to say I have a new favourite author and if you like crime books - you'll love this novel.

0 comments,
Reply to this entry

Posted : 12 years, 6 months ago on 7 June 2006 04:58 (A review of
The Sentinel - The Complete First Season
)
I absolutely love this show and am ecstatic it had been released on DVD. Fingers crossed we get the rest of the seasons.

0 comments,
Reply to this entry
Movies
TV
Music
Books
Favorite Authors
DVDs
Comments